Alum Frame Induction Motor
Alum Frame Induction Motor is the most widely used motor. Its advantages include low price, simple structure, easy maintenance, and small rate change. Its speed is proportional to the frequency. The higher the frequency, the faster the speed. The widely used variable speed is used in AC motors with frequency converters to control the transmission speed.
The voltage and current of alternating current vary with time. Therefore, the magnetic field generated by passing alternating current through the stator coil of the motor is not a fixed magnetic field, but a variable magnetic field that changes with time. It is designed to allow the surrounding magnetic field to push the rotor at different times and at different positions to keep it running.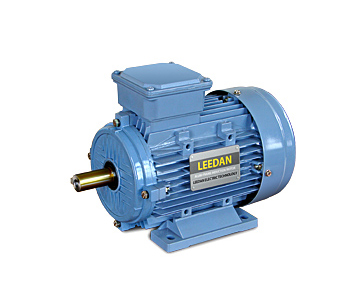 Aluminum alloy three-phase induction motor motor characteristics
* 0.08HP ~ 10HP (2P, 4P, 6P)
* Aluminum House
* Wide voltage Range
-50HZ: 200V ‧ 220V / 380V ‧ 415V
-60HZ: 200V ‧ 220V / 380V ‧ 440V
* Insulation Class : F Class
* Protection Class : IP 54 ( Optional IP 55 )
* S.F. 1.15
* Complies with EFF2 European efficiency
* Flexible Terminal Box junction box can be installed on multiple sides, can be rotated 90 degrees
* CE, ISO9002 Certificate
* Shaft End are Tapped
Scope of application
Papermaking, printing machine, rubber machine, dyeing and finishing, wire drawing machine, cutting machine, shearing machine, plastic machine, metal sanding machine and general working machine are driven by power to increase accuracy