Servo Motor
Servo motor body encoder (used to drive the positioning mechanism), servo motor parameter settings, control interface I / O, monitoring status, receiving controller pulse input commands, encoder feedback signals, and output voltage after calculation to make the motor run . Position control, Speed control, Torque control, Position / Speed, Speed / Torque, Position / Torque control switching.
Servo motor working controller
Control the servo motor operation, operation Speed, movement position amount, return to origin, interrupt operation, etc ...
Scope of application
A wide range of applications, such as CNC processing machines, multi-joint robots, constant speed control, tracking systems, XY (Z) platforms, mechanism positioning (fixed speed) control, torque control and other automatic control. Small size, high efficiency, can be applied to precise positioning of machinery, use of semi-closed loop system and fully closed loop system, absolute position detection, self-overload protection, precision positioning application of general industrial machinery.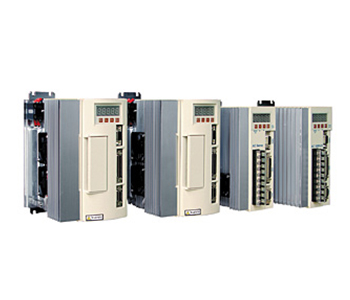 Specification
Servo driver specifications
Type
MSD-015 / 020 / 030 / 050 / 075
Input Power
AC180V ~ 240V single-phase / three-phase 50/60Hz
Encoder type
Incremental ( 2500 ppr )
Surroundings
Temperature
Operating Temperature : 0 ~ 50℃ 、 Storage Temperature : -20 ~ 80℃
Humidity
Use / storage humidity below 85% RH
Vibration
below 0.5G
Control Mode
Position / Speed / Torque
Position control
Command force type
Forward / reverse Pulse, sign + Pulse, A / B phase Pulse
Maximum input
500 kpps
Electronic gear ratio
1/127 ≦ A/B ≦ 127 ( A&B : 1 ~ 10000 )
Position smoothing filter
Time constant from 0 ~ 10000ms
Positioning
0~32767 Pulses
Speed control
Speed input command
0 ~ ±10V ( CCW direction is + V input from the motor output shaft )
Internal speed command
3 speeds can be set by internal parameters
Linear acceleration and deceleration
Time can be set by internal parameters 10 ms ~ 10000 ms can be set to valid / invalid
Zero speed judgment
0 ~ 255rpm
Speed arrival judgment
Internal parameters can be set from 0 ~ rated speed
Servo lock
Internal parameters can be set to valid / invalid
Internal torque limit
0 ~ 300% of rated torque
Torque control
Torque input command
0 ~ ±10V ( positive voltage limits positive torque )
Torque command filtering
Time constant from 0 to 10000 ms
Speed limit
External force
0 ~ 10V ( specification speed )
Internal settings
Can be set from 0 ~ specification speed
Manual operation
Available panel operation
Error message
Can remember 10 groups of past error history
Prohibited over travel
Prohibition of positive or negative travel ( Power output Disable or Holding when over travel )
Analog monitor output signal
Speed and torque (current) are detected at two points
Encoder signal output
A, B, C Phase line driver output
Encoder output cycle ratio
1/N : N=1~16
Panel
5-digits LED display, four keys
Other
Input terminal
Servo on, alarm reset, forward / reverse prohibition, control mode switching, external torque limit, emergency stop, pulse stop, etc.
Output terminal
Servo ready, alarm, complete positioning, speed arrival, zero speed detection, encoder output, etc.
Communication function ( RS232C )
Parameter setting, execution status monitoring display